Updated February 2022
SLS Chairman's Christmas Message 2021
Wishing you a very happy Christmas and New Year from us all at Sight Loss Shropshire.  The Committee, Secretary Robin Durham and Administrator Clare Humphreys, join with me in sending you this message, and we hope you are keeping safe and well as Covid unfortunately seems here to stay.
We are sorry not to be able to send our customary CD of Christmas cheer and music, but sadly it has been impossible to get through the GDPR regulations in sharing address information held by local authorities.
Nevertheless, this card and message come to you wish our sincerest best wishes.  2021 has not been without its challenges, but, in between lockdowns we have at least been able to socialize more than in 2020.
Our Christmas card is attached and shows a little Redwing bird on a snowy twig.  A cheerful and colourful little thrush with a speckled chest and pretty red feathers under its wing.  They come from Scandinavia and Russia to the UK in the winter months before leaving again around April.  They may not visit our gardens unless the weather is particularly harsh and snowy as they prefer open fields and hedgerows.
April is an important month for us too at Sight Loss Shropshire since, Covid restrictions permitting, we very much hope to hold our Winters Day Out event again.  It will be so very special to get together again in person after such a long wait.  We will of course keep in touch about this, but, in the meantime, please reserve 8 April in your diaries!!
May I take this opportunity to thank everyone at Sight Loss Shropshire for their continuing efforts on behalf of everyone affected by sight loss in Shropshire and Telford and Wrekin.  Clare and Robin, treasurer Wendy, and each and every committee member and support group organizer have been wonderful.  We have several new members on the committee amongst whom is Cllr Simon Jones who takes the place of Cllr Dean Carroll.  Thank you all, and a special good wish from me for Christmas and the New Year.
Diana Flint
Chairman, Sight Loss Shropshire
Specialist support for people diagnosed with sight loss introduced – January 2019
The Royal National Institute of Blind People (RNIB) and Shrewsbury and Telford Hospitals Trust, with support from Sight Loss Shropshire, have launched a new service providing emotional and practical support to people newly diagnosed with sight loss.
A new Eye Clinic Liaison Officer (ECLO) will work alongside health professionals to offer support and advice to blind and partially sighted people on a range of areas. These include independent living, returning to work, benefit entitlements, emotional support, and coping at home.
Emma Chaplin has been recruited to the ECLO role at SaTH.
Rachel Setchell, RNIB ECLO Service Manager for Central England, said: "It can be an overwhelming experience being told you are going to lose your sight. That feeling is compounded if people have to deal with it alone.
"ECLOs provide much needed information, advice and guidance. We are extremely pleased to be working with our partners to bring this support and advice to patients attending Shrewsbury and Telford hospitals."
Dr Prasad Rao, Clinical Director for Ophthalmology at The Shrewsbury and Telford Hospital NHS Trust, said: "A diagnosis of sight loss can be a traumatic experience. The appointment of an Eye Clinic Liaison Officer will make a huge difference to these patients by providing them with essential support, information and advice when they need it most.
"We are delighted that we are now able to offer this service at both the Princess Royal Hospital and the Royal Shrewsbury Hospital, thanks to our partnership with RNIB and Sight Loss Shropshire."
To find out more information about ECLOs, please visit RNIB's website: www.rnib.org.uk/ecloinformation.
Donation enables SaTH to buy Ophthalmology equipment to benefit children - December 2018 
A generous donation by Sight Loss Shropshire (SLS) has enabled SaTH to purchase two new retinoscopes which will benefit youngsters across the county.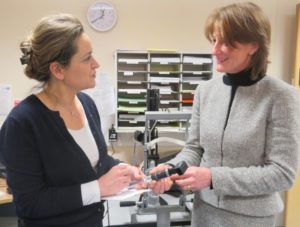 Andrea Elkan and Anna Turner take a look at the new piece of equipment
Anna Turner, SLS Chairman and the next Lord Lieutenant of Shropshire, joined SLS Secretary Robin Durham, to present a cheque for £1226.39 for the retinoscopes to Andrea Elkan, Paediatric Ophthalmology Consultant at SaTH.
Robin said: "We are delighted that our donation means that our local hospital's Paediatric Eye Clinic can purchase pieces of equipment that will be of such benefit to children with sight loss, and will help hundreds of children in Shropshire, Telford & Wrekin over the life-span of the equipment."
Andrea said: "We are incredibly grateful to Sight Loss Shropshire for their very generous donation. The retinoscopes will be for use on children at both the Princess Royal Hospital in Telford and the Royal Shrewsbury Hospital.
"Retinoscopes are used by Opticians and Ophthalmologists within outpatients clinics at the hospitals to determine whether the patients have a problem with focusing on light accurately. If the child fails the test, they may need further intervention to improve their sight.
"Any improvements in sight are really beneficial for children and can make such a difference to their learning and daily tasks."
£5,000 Donation helps to buy new Ophthalmology machine – September 2017
The Shrewsbury and Telford Hospital NHS Trust (SaTH) will benefit from new state-of-the-art ophthalmology equipment that will help detect eye conditions in both adults and children.  Sight Loss Shropshire has made a generous £5,000 donation towards a new visual fields machine for the Eye Department at the Royal Shrewsbury Hospital, run by SaTH.
Phillipa Downes, Senior Orthoptist at SaTH, said: "The Ophthalmology team has gratefully received a charitable donation from Sight Loss Shropshire towards a new visual fields machine.  This machine will allow very specific visual fields and binocular function testing for adult and paediatric patients.  SaTH had two machines that were over 50-years-old, and one of the machines had failed and could not be fixed.  The purchase of this new machine will replace the one that has failed and will mean patients will benefit from more modern and accurate equipment."
Andrew Evans, Operational Manager at SaTH, said: "The new machine will be located within the new Eye Department and will be available for patients at the end of October 2017 when a newly refurbished Paediatric Ophthalmology facility will open.  The facility is located adjacent to the brand new department which opened to patients on 26 June this year."
Robin Durham, Secretary for Sight Loss Shropshire, said:  "We are delighted that our donation means that the Trust can purchase a piece of equipment that will be of such benefit to both adults and children, and make a difference to the care that the Trust can offer to those with eye conditions."
50% of people with learning disabilities suffer eye problems – August 2015
A pilot scheme in London has revealed that over half the people with learning disabilities seen in specialist sight tests suffered an eye health issue, and almost two thirds required spectacles.
52% of those seen had an eye health problem which could have led to sight loss says the report authors, national charity SeeAbility and the leading eye health organisation, Local Optical Committee Support Unit (LOCSU).
Experts claim it could lead to reduced independence, poorer quality of life and higher health and social care costs for these individuals.  They are calling on Clinical Commissioning Groups (CCGs) to introduce more eye care pathways. Currently, just four CCGs have commissioned the services which offer longer, specially adapted sight tests for people with learning disabilities.
"People with learning disabilities are 10 times more likely to have serious sight problems than other people," said Katrina Venerus, Managing Director of LOCSU.
"The Tri-Borough pilot identified a high prevalence of treatable eye conditions such as cataracts, glaucoma, diabetic retinopathy and keratoconus."
The concern is that if left unidentified and untreated, these eye conditions will worsen and lead to higher health and social care costs. With so many people with learning disabilities not receiving regular eye care, the risks of sight loss for this group are greatly increased.
New 'Accessible Information Standard' for NHS and Social Care – June 2015
On 24 June 2015, the new 'accessible information standard' was approved.  All organisations that provide NHS or adult social care must follow the accessible information standard by law.  Organisations must follow the standard in full by 31st July 2016, and there are some things they must do before then.  The aim of the accessible information standard is to make sure that people who have a disability, impairment or sensory loss get information that they can access and understand, and any communication support that they need.
As part of the accessible information standard, organisations that provide NHS or adult social care must do the following:
Ask people if they have any information or communication needs, and find out how to meet their needs
Record those needs clearly and in a set way
Highlight or flag the person's file or notes so it is clear that they have information or communications needs and how to meet those needs
Share information about people's information and communication needs with other providers of NHS and adult social care, when they have consent or permission to do so
Take steps to ensure that people receive information which they can access and understand, and receive communication support if they need it.
More information about the accessible information standard is available at www.england.nhs.uk/accessibleinfo