Updated January 2019
Ophthalmology Services Survey
Shrewsbury  & Telford Hospitals Trust are engaging with patients who use, or have used, their Ophthalmology services.  To have your say, please complete the survey at https://www.surveymonkey.co.uk/r/1810EyeCare.  The Trust will also be carrying out face-to-face surveying in the Eye clinics, and paper copies of the survey will be available at reception in each clinic.
Donation enables SaTH to buy Ophthalmology equipment to benefit children  
A generous donation by Sight Loss Shropshire (SLS) has enabled SaTH to purchase two new retinoscopes which will benefit youngsters across the county.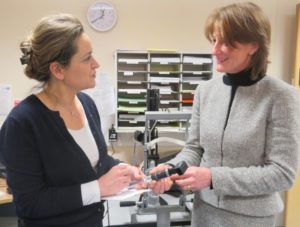 Andrea Elkan and Anna Turner take a look at the new piece of equipment
Anna Turner, SLS Chairman and the next Lord Lieutenant of Shropshire, joined SLS Secretary Robin Durham, to present a cheque for £1226.39 for the retinoscopes to Andrea Elkan, Paediatric Ophthalmology Consultant at SaTH.
Robin said: "We are delighted that our donation means that our local hospital's Paediatric Eye Clinic can purchase pieces of equipment that will be of such benefit to children with sight loss, and will help hundreds of children in Shropshire, Telford & Wrekin over the life-span of the equipment."
Andrea said: "We are incredibly grateful to Sight Loss Shropshire for their very generous donation. The retinoscopes will be for use on children at both the Princess Royal Hospital in Telford and the Royal Shrewsbury Hospital.
"Retinoscopes are used by Opticians and Ophthalmologists within outpatients clinics at the hospitals to determine whether the patients have a problem with focusing on light accurately. If the child fails the test, they may need further intervention to improve their sight.
"Any improvements in sight are really beneficial for children and can make such a difference to their learning and daily tasks."
Christmas Cards
The Charity Christmas card Shop at St. Mary's Church in Shrewsbury is now open.  There will be cards from over 40 charities, including Sight Loss Shropshire, on sale until 5th December.
RNIB West Midland Network Committee.
Are you affected by sight loss?  RNIB are looking for people who want to help shape their work in the West Midlands. As a member of their new Network Committee you will help lead and steer their Connect work in the local community to bring about positive change for blind and partially sighted people of all ages and anyone affected by sight loss.  Applications close at midnight on 189th July 2018.
https://www.rnib.org.uk/community/1640/topic/49480
Macular Week 2018
As part of Macular Week, the Macular Society has launched a short film to highlight the impact a diagnosis of macular disease can have. This is a story of a mother who struggles to watch her son grow up as she loses her sight.  You can watch the video here: https://www.macularsociety.org/macularweek
£5,000 Donation helps to buy new Ophthalmology machine
The Shrewsbury and Telford Hospital NHS Trust (SaTH) will benefit from new state-of-the-artophthalmology equipment that will help detect eye conditions in both adults and children.  Sight Loss Shropshire has made a generous £5,000 donation towards a new visual fields machine for the Eye Department at the Royal Shrewsbury Hospital, run by SaTH.
Phillipa Downes, Senior Orthoptist at SaTH, said: "The Ophthalmology team has gratefully received a charitable donation from Sight Loss Shropshire towards a new visual fields machine.  This machine will allow very specific visual fields and binocular function testing for adult and paediatric patients.  SaTH had two machines that were over 50-years-old, and one of the machines had failed and could not be fixed.  The purchase of this new machine will replace the one that has failed and will mean patients will benefit from more modern and accurate equipment."
Andrew Evans, Operational Manager at SaTH, said: "The new machine will be located within the new Eye Department and will be available for patients at the end of October 2017 when a newly refurbished Paediatric Ophthalmology facility will open.  The facility is located adjacent to the brand new department which opened to patients on 26 June this year."
Robin Durham, Secretary for Sight Loss Shropshire, said:  "We are delighted that our donation means that the Trust can purchase a piece of equipment that will be of such benefit to both adults and children, and make a difference to the care that the Trust can offer to those with eye conditions."
New Vision Impairment telephone drop in service in Telford & Wrekin
Telford & Wrekin Council are offering a new telephone drop-in service for visual impairment.  People who call will be able to speak to a Rehabilitation Officer for Vision Impairment to request replacement equipment, to seek advice or to discuss any issues they have relating to their visual impairment.  The service is available on Wednesdays between 10am and 2pm and the contact number is 07976 426 483.
New telephone number for Sight Loss Shropshire
The telephone number for Sight Loss Shropshire has changed – our new number is 01743 250808.
Esme's Umbrella – supporting people with Charles Bonnet syndrome
Do you have low vision and are you experiencing visual hallucinations?  If you are, you might be suffering from a little known condition called Charles Bonnet syndrome.
Esme's Umbrella was launched in November 2015 to raise awareness of Charles Bonnet syndrome and support people with the condition.  Their website offers a platform on which sufferers, their families and friends can exchange experiences, share coping strategies and find reassurance. The Helpline number is 0345 051 3915, and the email address is esmesumbrella@gmail.com
Support available from Severn Trent Water
If you are finding it difficult to read, or pay, your Water Bill, Severn Trent Water provides a range of free services that you may find helpful.  These include:
Alternative correspondence formats such as large print, braille, electronic mail, audio CD or cassette, textphone, and formats suitable for people with dyslexia or colour blindness.
A Nominee Scheme enabling you to authorise a friend or relative to speak to Severn Trent on your behalf about your account
Schemes and tariffs to assist those who are struggling to pay their water bills
If you would like more information about the support and services provided by Severn Trent Water, please contact the Sight Loss Shropshire office on 01743 210808.