Updated December 2019
Sight Loss Survey
Early next year, eye research charity Fight for Sight will launch a survey to gather insights on the personal impact of sight loss. It is hoped that the findings from this survey will help to strengthen the case for desperately needed eye research funding.
Sight loss costs the UK over £28 billion each year, yet only 1% of funding for public services is spent on eye research. This equates to just £20 for each person living with sight loss.
Participation in the survey involves a short 15-minute phone interview or online survey in which respondents share information and answer questions on how living with sight loss or an eye condition impacts their life or that of the person they care for.
Interested participants should fill in the following short questionnaire to register their interest in taking part: https://www.surveymonkey.co.uk/r/TG2PRLX, which takes less than five minutes to complete, or call 020 7264 3900.
When the full 15-minute survey is launched in early 2020, those who have registered their interest will be contacted and invited to take part in a 15-minute online survey. The survey can also be done over the phone if this better suits access needs.
Participants can really help to transform the eye research landscape and build a case to secure urgently needed funding for pioneering eye research projects.
Living with Sight Loss Courses
The RNIB will be running a Living with Sight Loss course in Shrewsbury in January 2020.  The course comprises two, one day sessions which are delivered a week apart. The course is for anyone with sight loss and provides information, advice, support and practical solutions for people with sight loss and those close to them. It offers an opportunity to share experiences with others in similar situations and find out about the services that are available.
Course dates – Wednesdays 22nd and 29th January 2020 at the Roy Fletcher Centre, 12-17, Cross Hill, Shrewsbury, SY1 1JE.  The course starts at 10.30am and finishes no later than 3.30pm.
To book a place, contact the RNIB on 0300 123 3933 or e-mail lwslenquiries@rnib.org.uk.  These courses are arranged on demand so if you would like to attend a course but cannot make the dates, please register your interest with RNIB on the telephone number above.
Free Home Energy Checks (Shropshire Council area only)
This winter – Keep Shropshire Warm are offering free home energy checks to residents across the County who may be struggling with their energy bills or finding it hard to keep warm at home. During visits, trained advisors can help residents apply for grants and energy bill discounts, check energy tariffs and install a range of low cost measures such as new LED lightbulbs, draught proofing and radiator panels.  For more information or to apply, call 0800 112 3743
New book about Nystagmus released
A new book about Nystagmus has been released on February 21st and is available from Amazon and other online retailers.
'Can I tell you about Nystagmus?' is an easy to read children's book and resource to explain Nystagmus in simple terms. Nystagmus, an involuntary eye condition, affects around 1 in 1000 people and is the most common form of eye condition amongst children.
The book has been written by Nadine Neckles, whose daughter has Nystagmus and Chromosome 18q-, a rare genetic condition
Specialist support for people diagnosed with sight loss introduced
The Royal National Institute of Blind People (RNIB) and Shrewsbury and Telford Hospitals Trust, with support from Sight Loss Shropshire, have launched a new service providing emotional and practical support to people newly diagnosed with sight loss.
A new Eye Clinic Liaison Officer (ECLO) will work alongside health professionals to offer support and advice to blind and partially sighted people on a range of areas. These include independent living, returning to work, benefit entitlements, emotional support, and coping at home.
Emma Chaplin has been recruited to the ECLO role at SaTH.
Rachel Setchell, RNIB ECLO Service Manager for Central England, said: "It can be an overwhelming experience being told you are going to lose your sight. That feeling is compounded if people have to deal with it alone.
"ECLOs provide much needed information, advice and guidance. We are extremely pleased to be working with our partners to bring this support and advice to patients attending Shrewsbury and Telford hospitals."
Dr Prasad Rao, Clinical Director for Ophthalmology at The Shrewsbury and Telford Hospital NHS Trust, said: "A diagnosis of sight loss can be a traumatic experience. The appointment of an Eye Clinic Liaison Officer will make a huge difference to these patients by providing them with essential support, information and advice when they need it most.
"We are delighted that we are now able to offer this service at both the Princess Royal Hospital and the Royal Shrewsbury Hospital, thanks to our partnership with RNIB and Sight Loss Shropshire."
To find out more information about ECLOs, please visit RNIB's website: www.rnib.org.uk/ecloinformation.
Donation enables SaTH to buy Ophthalmology equipment to benefit children  
A generous donation by Sight Loss Shropshire (SLS) has enabled SaTH to purchase two new retinoscopes which will benefit youngsters across the county.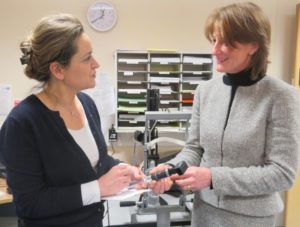 Andrea Elkan and Anna Turner take a look at the new piece of equipment
Anna Turner, SLS Chairman and the next Lord Lieutenant of Shropshire, joined SLS Secretary Robin Durham, to present a cheque for £1226.39 for the retinoscopes to Andrea Elkan, Paediatric Ophthalmology Consultant at SaTH.
Robin said: "We are delighted that our donation means that our local hospital's Paediatric Eye Clinic can purchase pieces of equipment that will be of such benefit to children with sight loss, and will help hundreds of children in Shropshire, Telford & Wrekin over the life-span of the equipment."
Andrea said: "We are incredibly grateful to Sight Loss Shropshire for their very generous donation. The retinoscopes will be for use on children at both the Princess Royal Hospital in Telford and the Royal Shrewsbury Hospital.
"Retinoscopes are used by Opticians and Ophthalmologists within outpatients clinics at the hospitals to determine whether the patients have a problem with focusing on light accurately. If the child fails the test, they may need further intervention to improve their sight.
"Any improvements in sight are really beneficial for children and can make such a difference to their learning and daily tasks."
Macular Video
The Macular Society has launched a short film to highlight the impact a diagnosis of macular disease can have. This is a story of a mother who struggles to watch her son grow up as she loses her sight.  You can watch the video here: https://www.macularsociety.org/macularweek
£5,000 Donation helps to buy new Ophthalmology machine
The Shrewsbury and Telford Hospital NHS Trust (SaTH) will benefit from new state-of-the-artophthalmology equipment that will help detect eye conditions in both adults and children.  Sight Loss Shropshire has made a generous £5,000 donation towards a new visual fields machine for the Eye Department at the Royal Shrewsbury Hospital, run by SaTH.
Phillipa Downes, Senior Orthoptist at SaTH, said: "The Ophthalmology team has gratefully received a charitable donation from Sight Loss Shropshire towards a new visual fields machine.  This machine will allow very specific visual fields and binocular function testing for adult and paediatric patients.  SaTH had two machines that were over 50-years-old, and one of the machines had failed and could not be fixed.  The purchase of this new machine will replace the one that has failed and will mean patients will benefit from more modern and accurate equipment."
Andrew Evans, Operational Manager at SaTH, said: "The new machine will be located within the new Eye Department and will be available for patients at the end of October 2017 when a newly refurbished Paediatric Ophthalmology facility will open.  The facility is located adjacent to the brand new department which opened to patients on 26 June this year."
Robin Durham, Secretary for Sight Loss Shropshire, said:  "We are delighted that our donation means that the Trust can purchase a piece of equipment that will be of such benefit to both adults and children, and make a difference to the care that the Trust can offer to those with eye conditions."
New Vision Impairment telephone drop in service in Telford & Wrekin
Telford & Wrekin Council are offering a new telephone drop-in service for visual impairment.  People who call will be able to speak to a Rehabilitation Officer for Vision Impairment to request replacement equipment, to seek advice or to discuss any issues they have relating to their visual impairment.  The service is available on Wednesdays between 10am and 2pm and the contact number is 07976 426 483.
New telephone number for Sight Loss Shropshire
The telephone number for Sight Loss Shropshire has changed – our new number is 01743 250808.
Esme's Umbrella – supporting people with Charles Bonnet syndrome
Do you have low vision and are you experiencing visual hallucinations?  If you are, you might be suffering from a little known condition called Charles Bonnet syndrome.
Esme's Umbrella was launched in November 2015 to raise awareness of Charles Bonnet syndrome and support people with the condition.  Their website offers a platform on which sufferers, their families and friends can exchange experiences, share coping strategies and find reassurance. The Helpline number is 0345 051 3915, and the email address is esmesumbrella@gmail.com
Support available from Severn Trent Water
If you are finding it difficult to read, or pay, your Water Bill, Severn Trent Water provides a range of free services that you may find helpful.  These include:
Alternative correspondence formats such as large print, braille, electronic mail, audio CD or cassette, textphone, and formats suitable for people with dyslexia or colour blindness.
A Nominee Scheme enabling you to authorise a friend or relative to speak to Severn Trent on your behalf about your account
Schemes and tariffs to assist those who are struggling to pay their water bills
If you would like more information about the support and services provided by Severn Trent Water, please contact the Sight Loss Shropshire office on 01743 250808.